Is it actually cheaper to buy a used RV and renovate it than to buy a new RV?
Many aspiring RVers ask this very question. So we talked to folks who have completed RV renovation projects and asked about their budget, plans, how they found their RV to renovate, and much more. 
Here's a look at how to renovate an RV – and the budget involved – to give it a fresh feel before your next camping season. 
Renovated RV Ideas
Even experienced planners need to start with a vision for their completed renovation. Here are some of the coolest renovated RVs we've seen: 
Before – Photo by Dustin Robinson via Facebook
After – Photo by Dustin Robinson via Facebook
Before – Photo by Michael Bachand via Facebook
After – Photo by Michael Bachand via Facebook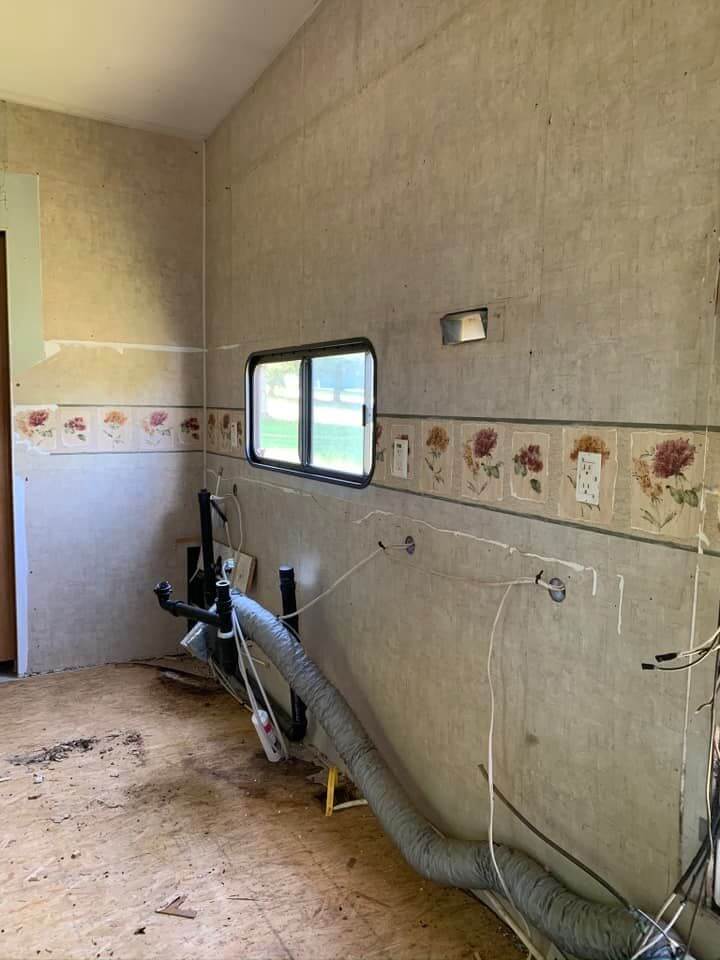 Before – Photo by Katy Strickland via Facebook
After – Photo by Katy Strickland via Facebook
Before – Photo by Thomas Clement via Facebook
After – Photo by Thomas Clement via Facebook
Here are more dramatic RV renovations.
How to Find an RV to Renovate
Photo by Camping World
Can't wait to launch into an RV renovation project but need a canvas to showcase your creativity?
Camping World offers thousands of used RVs ready for your DIY dreams. Many of these are perfectly suited for your renovation project. Butt here are other benefits of buying a pre-owned RV, such as cheaper upfront costs and potentially lower insurance payments. 
Shop Camping World's selection of pre-owned RVs perfect for a DIY renovation.
Plus, Camping World's Design Centers will make your renovation projects fun and easy. Bring the family to help you select new furniture, fixtures, appliances, and more. Our design experts will help you visualize how it'll all tie together inside your RV. 
How Much Does it Cost to Renovate an RV?
Photo by Camping World
RV renovations come in all shapes and sizes, large and small. For example, using a wallboard kit to revive your RV's interior walls can cost little more than $200, but larger DIY RV renovation projects can easily cost you thousands. 
RVers that have completed renovation projects report spending anywhere from $2,000 to $7,000+. But it all depends on the size of your RV and the extent of the renovations undertaken. 
Here are a few tips to help you cut costs for your RV renovation: 
Renovate in stages. Break up your project into 3-4 stages to spread out the work. I like to use Demo, Prep, Installation, and Finish for my stages, helping me visualize what the space will look like at the end of each stage and providing time to earn a few more paychecks before covering the costs of the next stage. 
Creatively source materials. When I redid the floors in my Fleetwood Bounder, I found a local couple with extra laminate RV flooring from a completed renovation project. I purchased it from them for substantially less than I would've paid at a retail store.
Mark retail sales on your calendar. RV retail sites like Camping World often offer seasonal promotions. Mark them on your calendar so you can pick up renovation supplies, new appliances, and other RV accessories at a discount as you prep for your renovation project.
How Hard is it to Renovate an RV?
Like cost, renovation difficulty varies from project to project. It can be as easy as unscrewing old knobs and screwing in new square knobs to freshen up the look of your RV cabinetry. But it can be as difficult as you want to make it.
Flooring can be a tricky RV renovation project because many manufacturers build RVs from the frame up, meaning the flooring is installed in a singular sheet before base sets are installed on top of it. 
A base set is the cabinetry and framework that creates rooms in your RV – bathrooms, bedrooms, kitchen, etc.
Removing worn RV furniture can also be challenging, as some manufacturers install certain items before the exterior walls are set into place. This means you may have to deconstruct a worn sofa instead of simply removing the bolts securing it to the floor and carrying it out your RV's door. 
Here are some of our favorite easy RV renovation projects: 
How to Plan an RV Renovation
There's no substitute for experiencing what it's like to live in an RV before starting a renovation. 
Misty took this approach: 
"I lived in it for a year and figured out what would be beneficial and make life easier. I put shelves in the closet where there was wasted space. Instead of huge open cabinets, I added dividers and shelves. I removed and installed a new dining table to make getting around easier. Then, I installed lights I liked, and now I'm ready to remove and replace the shower door."
Others take a more systematic tact, like Barbara: 
"We made a list of items we liked about our rig, items we didn't like or wanted to change, and things we really wished we had. Then we drew up a floorplan detailing where things were and how they could change. Then started tearing out the old and putting in the new. We removed the entire kitchen and changed it to fit our needs – especially since I'm short and upper cabinets are nearly useless for me. We got rid of the oven because, in 11 years, we had only used it once. We removed the bathtub for the same reason. We altered the footprint of the bedroom to accommodate my 6'+ tall husband. Then we put in new floors, cabinets, countertops, etc. We started with a laminate floor we loved and built the coloring around it."
How to Renovate an RV Interior
When renovating an entire RV interior, work from top to bottom, addressing items like installing a new roof vent fan or reviving worn cabinetry before progressing to upgrading furniture or installing new flooring. 
Some RVers also start with their most pressing need, like Remedy: 
"Our first travel trailer had no seating. So took out the queen bed and closets on each side. Built platforms for twins and put bolsters like a daybed. Used the closet doors for storage beneath beds. Mounted a TV on the wall. It has a cubby for an old tube TV, so now that's extra storage. Also installed a small window unit since the original A/C was so loud."
Keeping it simple is also a great idea if your RV just needs a modest upgrade, like Frances':
"We removed the little jack-knife couch and replaced it with 2 rocker recliners. Much better! We like everything else just how it is!"
If you're like Traveling 8 Pack, though, a little more effort can be worth it: 
"We took out the U-shape dinette and original couch in the living room of our 2019 bunkhouse so we could put in a sleeper sofa, table, and benches. Then, we covered the window with pic on the side of the slide and ship-lapped wallpaper."
Check out their finished product!
How to Renovate an RV Bedroom
A good laugh and a long sleep are the best cures in the doctor's book. 
– Irish Proverb
Aside from full-timers, most of us plan RV trips for adventure, relaxation, or some combination of the two. Your RV's bedroom must feel peaceful and comfortable if you want to avoid feeling just as tired or burnt out as you were prior to the trip. 
It all starts with the bed, so read our tips on how to make your RV bed the most comfortable bed ever before you progress. 
Beyond a comfortable bed, consider your RV entertainment system options, closet storage solutions, nightstand access, and anything else you enjoy in your residential bedroom. 
Here are a few of our favorite RV bedroom renovations:
How to Renovate an RV Kitchen
Many campers spend most of their time in the kitchen and living room of their RV. If this space isn't working for your RV lifestyle, it's time for a makeover. Does your RV feel a bit too cave-like? Many older RVs featured darker cabinetry, so it makes sense to start here if you want to brighten up your space. 
Genesis makes a complete cabinet revival kit that's available in eight different colors. It provides a much more cost-effective alternative to ripping out and replacing cabinetry. Plus, it's easy to apply and has enough peel-and-stick material to cover up to 150 square feet of cabinetry. 
Check out Camping World's complete selection of Genesis Cabinet Revive Kits.
Beyond cabinetry, there are more in-depth renovations like installing a new kitchen sink basin, upgrading your cooktop, and reviving worn kitchen countertops. DIY projects like these are a bit more intensive, and you'll benefit from contacting a Camping World Design Center to help you plan and execute your renovation. 
Find a design center near you.
Here are a few recent RV kitchen renovations that have caught our attention: 
Photo by Roger Sushko via Facebook
Photo by Melissa Stacks via Facebook
Photo by Joan DePoppe via Facebook
Photo by Harry Olson via Facebook
How to Renovate Sidewalls of an RV
Photo by Camping World
Wallboard kits are arguably the easiest way to revive your RV's interior sidewalls. They come with the supplies you need to complete the simple peel-and-stick application, and they're available in multiple colors and modern designs. 
They're great for renovating older RVs with ominously dark wallpaper or eccentric patterns that have gone out of style. Genesis makes some of the best kits for RV interior wall renovation, and their kits can be used in your RV's living room, slide-out, kitchen, bedroom, bathroom, and anywhere else you want to give the walls a facelift. 
Shop the complete selection of Genesis RV renovation products at Camping World.
Sometimes, uplifting the sidewalls completely changes the feel of your RV's interior. Just ask Charol: 
"We did a makeover to our 18′ Starcraft camper. All the cabinets were dark brown, including the bathroom door, and the walls were beige. The video is how it looks now."
How to Renovate an RV Bathroom
An RV bathroom renovation can be as simple as installing a more comfortable RV toilet. I'd rather not tell you how many times I've had to remove and replace one of these. It's never pretty, but things get much easier (and cleaner) once completed. 
You can also get creative to satisfy a unique need, like Leigh: 
"I added a 2″ duct hose from the heater plenum under the tub and exited with a small vent to blow heat into the bathroom. I was my wife's hero to give her some warmth should there be a nighttime need."
Other, more attractive bathroom renovation ideas include: 
For more inspiration, here's everything you need to upgrade your RV shower.
How to Sell a Renovated RV
Flipping an RV can be lucrative, but selling privately comes with baggage. We've detailed our recommendations for how to sell a used RV here, but the easiest path is to consign with Camping World.
Start by using the Good Sam RV valuator to get an instant quote. 
Then, utilize the resources available at your local Camping World dealership for cleaning and photographing your RV, listing it on our nationwide marketplace, and providing 24/7 customer support to answer the questions of prospective buyers. 
We'll show your RV on our lot, negotiate financing through local or national banks, satisfy outstanding loans, handle the paperwork, and write you a check when the sale is final. You'll be free to focus on other matters, like shopping for your next RV!
Learn more about consigning your RV with Camping World.
How to Rent Out Your Renovated RV
Once your RV renovation is complete, you don't have to be the only one to enjoy the newly-renovated space. When you're not using your RV, renting it out is a great way to earn extra cash and grow your rainy day fund for the next renovation or RV purchase.
It also gives curious folks the opportunity to experience RV life without taking the plunge of buying. You never know who you'll inspire to hitch up and hit the open road after they enjoy their stay in your renovated RV. 
With Good Sam RV Rentals, you can easily list your RV for rent in your region and earn up to $1,485 per week (depending on your RV make and model). The program only takes out 10% of your earnings as commission fees, and payouts for rental earnings can be initiated in as little as 24 hours.
When you rent through Good Sam RV Rentals, your RV is protected with 24/7 Roadside Assistance coverage and up to $1 million in rental protection coverage. Find out how to list your RV and start earning today.
Your RV renovation project has begun once you have the vision in your head. Here are a few more articles that we hope inspire your next DIY renovation: 
Have you renovated an RV? Do you have any tips? Share your experience in the comments below.