Hostels are possibly the best type of accommodation for backpacking/budget travelers in Europe.
They're inexpensive.
They're located in every European city.
They're full of other young travelers.
They make it easy to meet other travelers.
There are a lot of excellent hostels since competition between hostels has grown considerably over the past 10-15 years.
Unfortunately, hostels are pretty uncommon in the US, so many Americans are totally clueless about them and have a lot of misconceptions (I know I did). This complete guide to hostels in Europe will cover everything from hostel basics to tips for choosing a great hostel.
Backpacking Through Europe? Check out our in-depth guide to The Best Travel Backpacks for tips on choosing your perfect bag. You might also want to read our Europe Packing List for Men and Europe Packing List for Women.
Hostels 101: Everything You Need To Know About Hostels in Europe
Curious about hostels? Keep reading.
What Is A Hostel?
Hostels—sometimes called "youth hostels"—are the bastions of budget travelers. They are similar to hotels except for the rooms (dorms) are filled with enough bunk beds to house anywhere between 4-40 people. In a hostel, you only rent the bed so you'll be sharing the room with a bunch of fellow travelers. Obviously, privacy is limited, but the low cost and thriving social scene more than make up for the negatives.
Many hostels also have female-only rooms but most rooms are unisex.
We suggest poking around Hostelworld to get a good sense of what kinds of hostels are out there.
How Much Do Hostels Cost?
The nightly price to book a hostel bed starts around $15+/night (in Eastern Europe) and $30+/night (in big cities in Western Europe)—but don't be surprised if you see beds going for $60+ night in popular cities.
The price depends on the size of the room (the cheapest beds are in the rooms with the most people), the location of the hostel, the amenities, the competition from other hostels in town, the inventory left, and a few other factors.
I think I usually paid an average of $40/night in Western Europe ($15/night in Eastern Europe). Keep in mind that I usually opted for the cheapest room available.
For reference, a private room with 2 beds can cost anywhere from $70 to $150+/night.
Reasons To Stay In A Hostel
Hosteling is the best way to meet tons of interesting people from all over the world. You're surrounded by like-minded travelers who all share a love of adventure and a love for having fun. It also makes meeting other travelers super easy — which is extra great for solo travelers.
Hostels are also usually located in the heart of the city, so you're close to all the action.
And hostels are cheap — so you can travel even longer.
Who Stays In Hostels?
There is a wide range of people who stay at hostels.
Most hostel-goers are young travelers between 18-30 (some hostels only allow guests between 18-35 years old). But I've met a 70-year-old Australian who was traveling for 6 months and I also see a lot of families traveling together.
Naturally, hostels attract a very international crowd so you'll be surrounded by people from all over the world.
From my experience, there are always lots of Australians and Kiwis who are traveling for 9+ months at a time. There are quite a few Americans who come over for 2-3 weeks, or who are studying abroad somewhere in Europe. I've met a handful of South Africans and a few French.
There will also usually be a handful of people who live in the hostel for a couple of months at a time — these are usually students doing short-term studies for jobs.
Hostels are also popular for European bachelor/bachelorette party groups — which can honestly get really annoying since they tend to get obnoxiously drunk. That's why I usually look for hostels that don't allow these groups to book (many will state this in the hostel rules).
Features Of The Best European Hostels
There are a lot of great hostels in Europe, and there are just as many terrible ones. I've compiled a list of features that you should keep in mind when searching for a hostel.
24/7 Checkin/Reception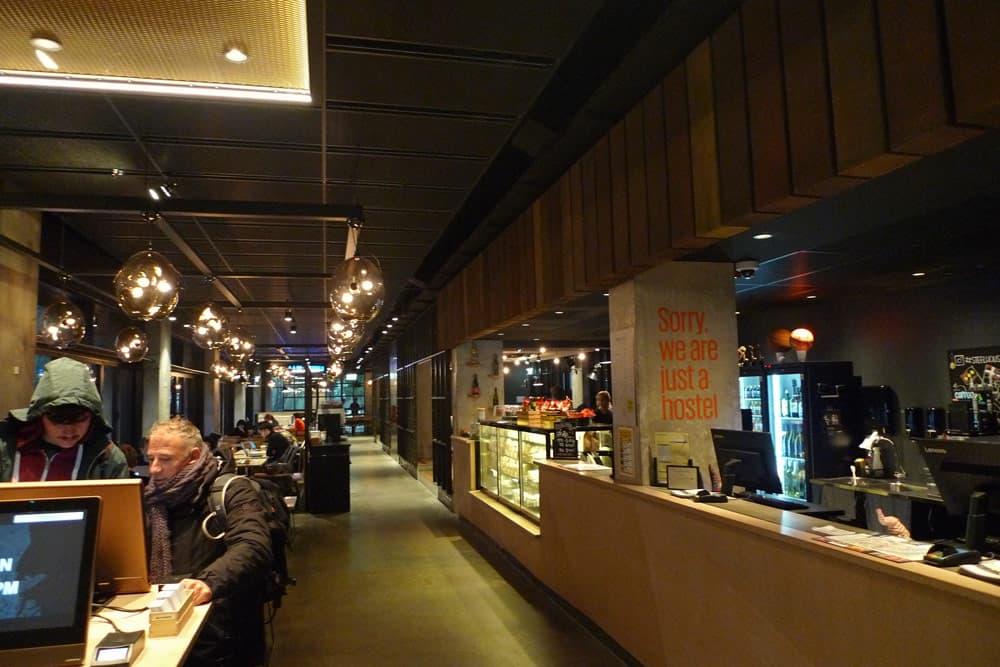 Reception desk
Every hostel has a check-in desk. This is where you pay, get your key, and receive all the important information about the hostel. Be sure to ask for a map. Some hostels don't have 24/7 reception, and it usually isn't a big deal… until your train/flight is late and you try to check in after reception closes. Then you're stuck looking for a new hostel.
TIP: The people at the front desk usually have the best idea about what is going on in the city. They'll be able to recommend the best things to do/see around town. It is helpful to give them an idea of what you're interested in doing. Questions like "what are some cheap restaurants?" or "I'm looking for a fun nightclub, any recommendations?" are a lot better than "So… what things should I do here?" The point is: don't expect them to plan your stay for you. Or you can check out our Europe City Guides!
Dorm Rooms & Private Rooms
Dorm Hostel Rooms
There are generally two types of rooms available in hostels — standard dorm rooms and private rooms.
Hostel dorm rooms are almost universally filled with multiple squeaky bunk beds (I've even seen three-level bunks). Dorms can range from small rooms with two bunk beds to large rooms with 20+ bunks. From my experience, the most common rooms usually have 4-6 bunks.
In general, the cheapest rooms will have the most amount of people so expect to pay more if you want a room with fewer strangers (and snorers).
Most dorm rooms are unisex but plenty of hostels offer female-only rooms.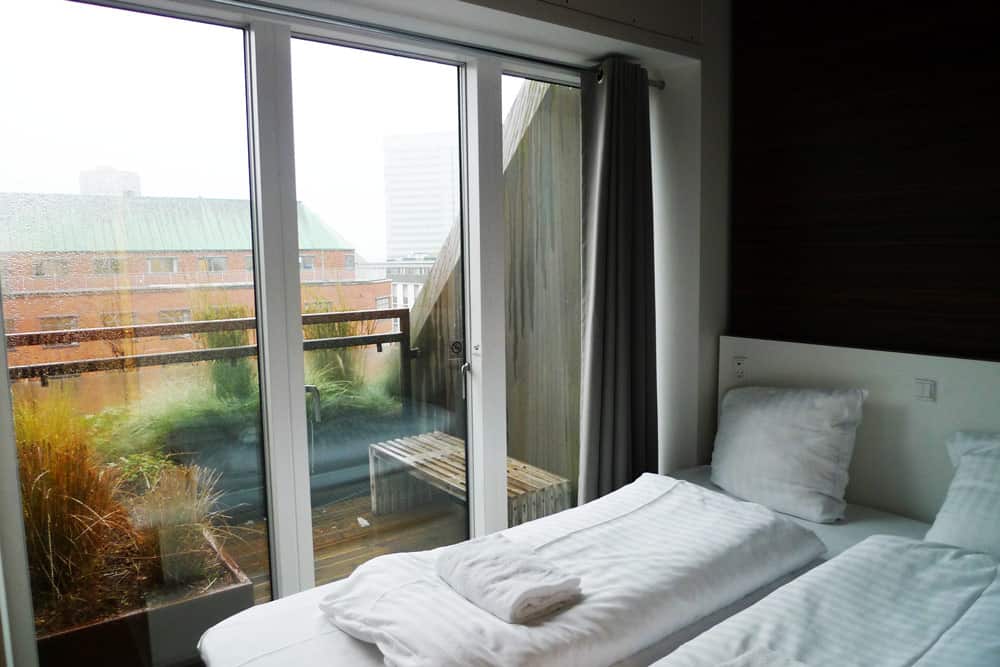 Private hostel room w/ balcony
Many hostels are now starting to offer private rooms for people who want more privacy but still want the hostel vibe. Most of the time private rooms are meant for one or two people. However, we've seen a lot of private rooms for groups of 3-4 people (these are for families or friends traveling together).
Security and Lockers
Under the bed lockers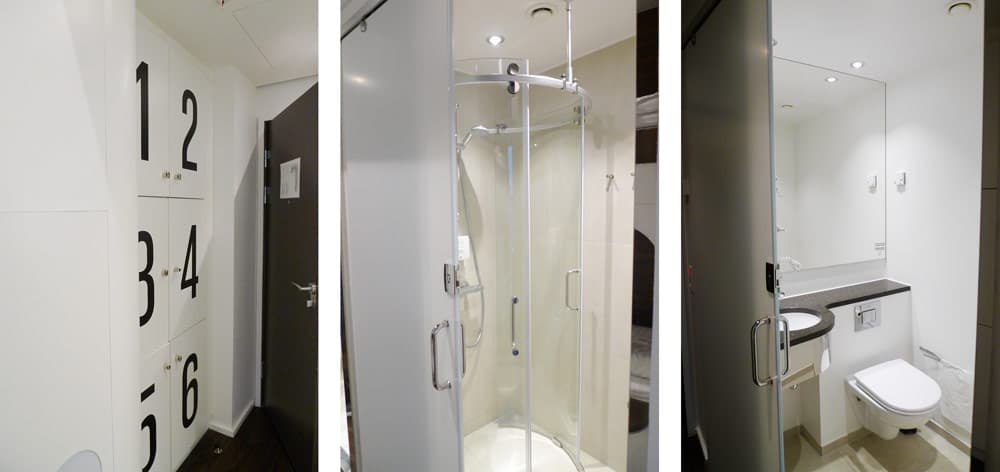 Lockers (left)
Each hostel has its own version of security. Some require a key/buzzer/secret knock to enter the building. Most hostels at least require a key to enter the dorm rooms.
Most dorm rooms have lockers. These are usually located under the bed but some rooms have cabinet-style lockers. You normally have to supply your own lock. I just lock up any valuables and leave my backpack on the bed.  I've never had any problems with theft — besides, no one wants a bunch of dirty clothes.
The hostel will probably have a room for storing your luggage for when you first arrive (if your room isn't ready) and when you're checking out. These rooms can range from a locked storage room monitored by CCTV to an open area on the floor with a pile of bags.
Showers/Toilets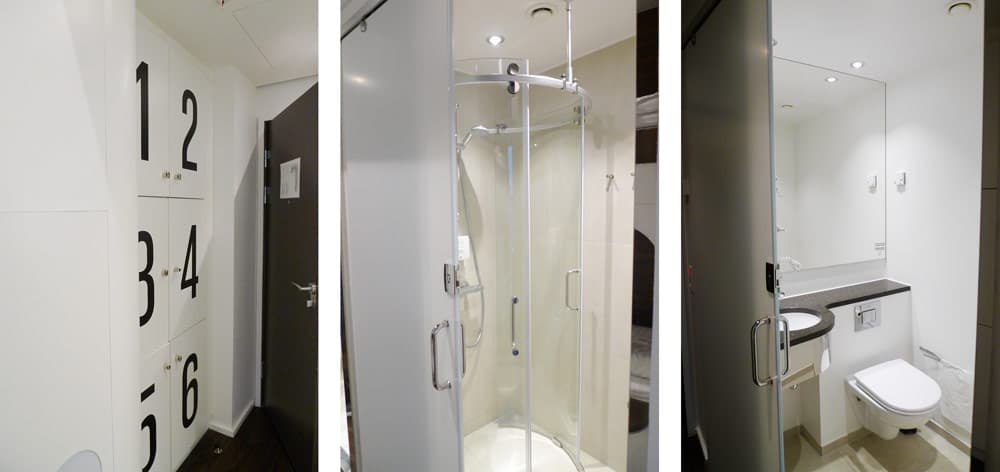 Lockers, shower, and bathroom.
Hostel bathrooms can be super nice or really terrible. Each hostel has a different setup when it comes to showers and toilets. Most of the time each room has its own bathroom. This means the room of 8 people could be sharing one small bathroom.
Some have large community-style bathrooms with a few sinks and multiple private shower stalls.
Some showers require you to push a stupid button every 30 seconds for the water to work and some are operated by pulling on a chain.
I've even stayed in a hostel where you had to walk through the kitchen and through the outdoor courtyard (not fun in the winter) to get to the shower.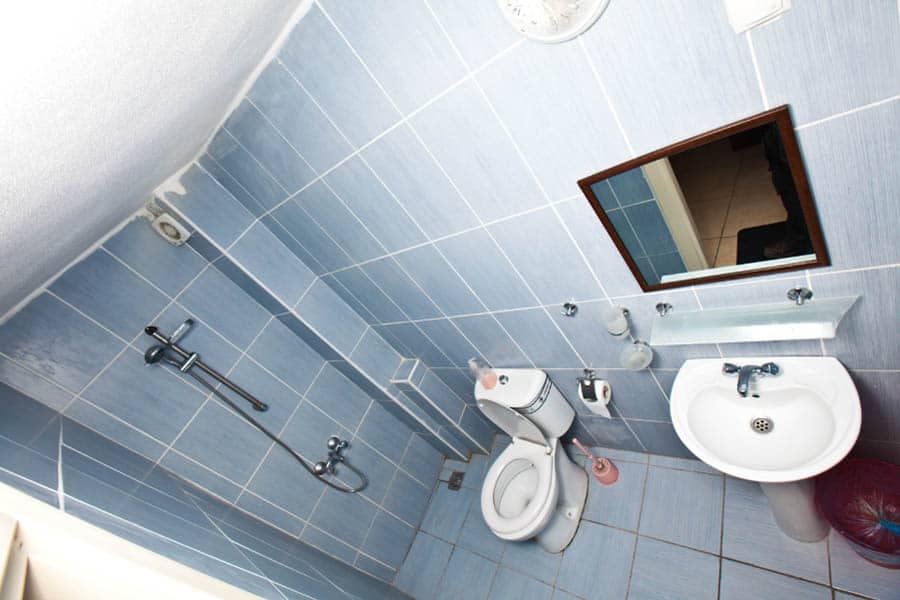 Literally the worst
The absolute worst is the shower/bathroom combo. I want to dance on the grave of the person who thought this was a good idea. Basically, there is no separation between the shower, toilet, and sink. The entire room gets wet and this is a pain in the ass trying to get dressed when every inch of the room is covered in water.
Lounge/Chill Out Room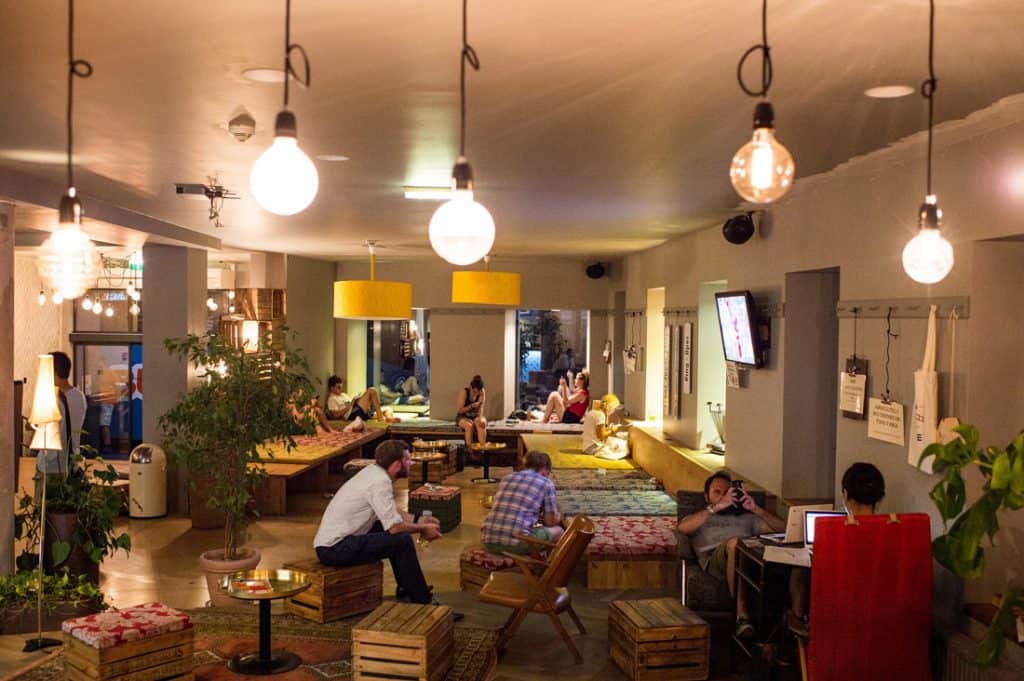 The better hostels have comfy lounge rooms where people can go chill out and meet other travelers. A lot of these rooms will have a big TV (usually with satellite channels), DVD player with a bunch of DVDs, books, board games, and big couches (often adorned with hungover Australians). This is a great place to meet other people and exchange travel stories. This is also where you'll find all the people glued to their smartphones (I'm plenty guilty of this).
Some hostels even have cool rooftop bars/terraces that always attract people so it's a great place to meet other travelers.
Kitchen & Dining Room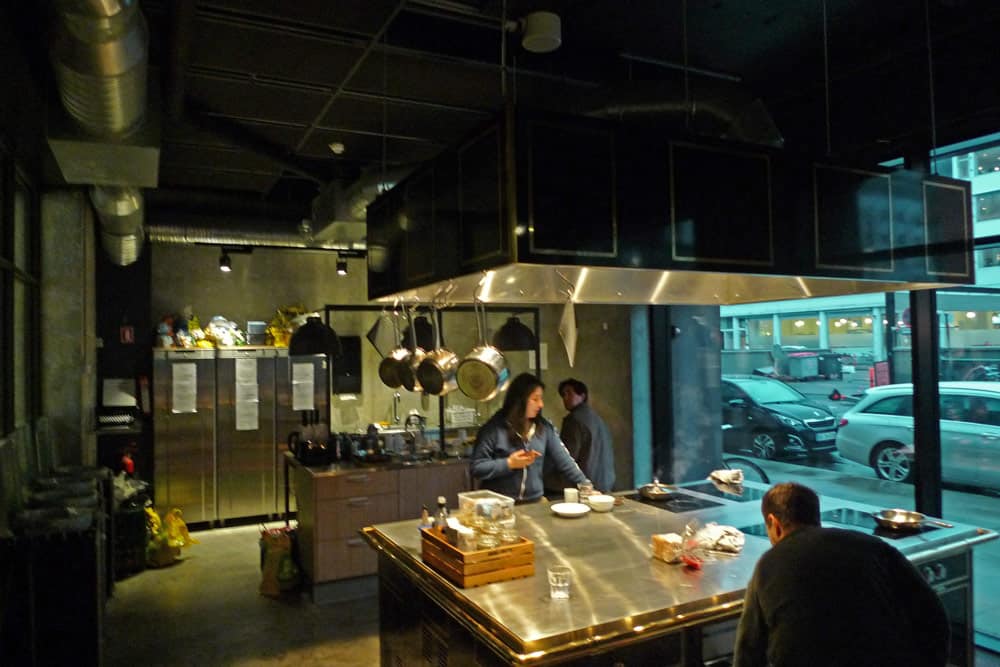 Massive kitchen
A hostel with a nice kitchen is a godsend. I try to exclusively book hostels with kitchens — even if it costs a little more — because you can save so much money by cooking your own meals. Hostels with nice kitchens are also much more social, as it gives people a chance to really interact with each other.
TIP: A great way to make friends is to organize a meal and have everyone chip in a few euros. I think I met all my best travel friends in the kitchen.
The best kitchens have everything you'll need to cook a meal; stoves, ovens, microwaves, refrigerators, sinks, utensils, cups, plates, and pretty much anything else you might need. Don't expect any kitchen to be super clean because they get a lot of use, and the hostel staff usually don't enjoy cleaning kitchens.
Breakfast (Hopefully Free)
A lot of hostels have free breakfast. Don't get too excited because it's usually pretty meager — but it's free, so whatever. Just about every breakfast consists of generic cornflakes, white or wheat bread (w/ jam, peanut butter, some yummy chocolate spread, & butter), orange juice, milk (room temperature), tea, and coffee. If you're lucky, you'll get a croissant. I've been to a few hostels where the breakfast isn't free and it usually costs a lot for what you get.
Hostel Bar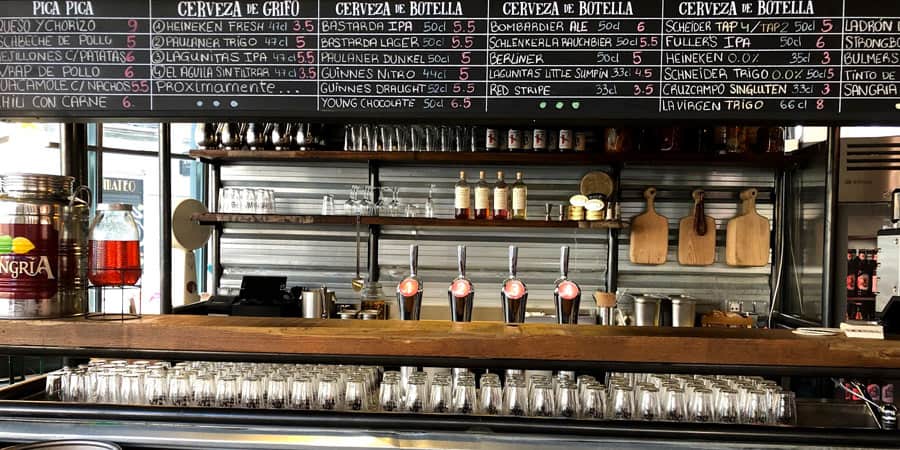 Bar + people = instant friends
If you want a hostel with a lively social scene, then you'll want to find one with a bar. The beer prices at hostel bars are usually pretty affordable and sometimes it's the best deal in town. And drinking in the hostel is safer than wandering the streets drunk after a big night out.
The bars do get a bit noisy, so you might want to book a hostel without a bar if you're a light sleeper — or don't enjoy drunk people.
The Hostel's Vibe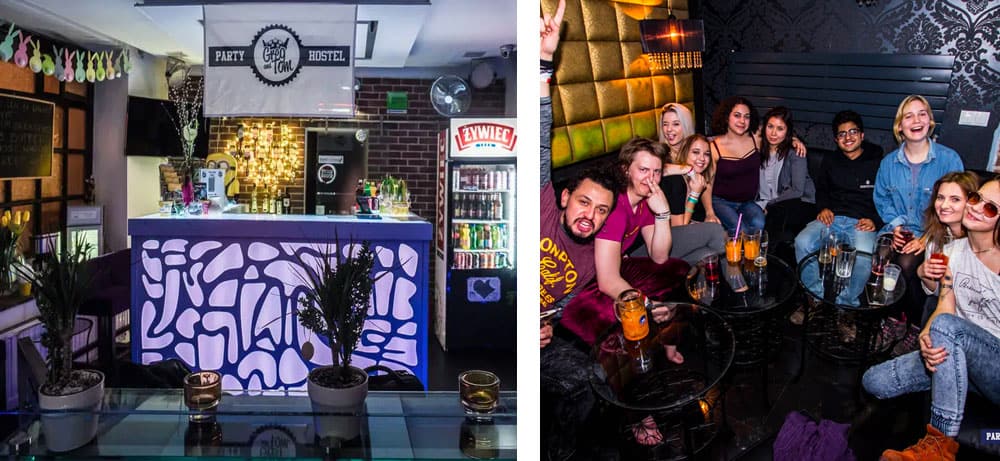 Party hostel

A chill but not a party hostel

More of a "hotel" vibe
Every hostel will have its own personality so you'll want to read the reviews to get a sense of what kind of hostel it is.
For example, some hostels have a party atmosphere (complete with a bar) so it's great for meeting people but it probably isn't a great place for light sleepers. Check out my guide to the best party cities in Europe if you want to find places with party hostels.
Other hostels feel more like a hotel and sometimes there isn't much of a community feel so it's not a great place to meet other travelers.
And other hostels have a lively atmosphere without turning into a party.
Free WiFi/Computers
Free WiFi is pretty much standard in hostels but check the reviews because WiFi can often be spotty in a lot of hostels — especially in the rooms.
A lot of hostels will also have computers with internet access but they usually charge you to use them.
Washing Machines

If you're a long-term traveler, a washing machine is a great luxury. Hand washing your stinky socks (and trust me, your socks will stink) is never fun, so having a machine do all the work is a miracle.
However, most hostels don't have washing machines so don't expect this.
Good Location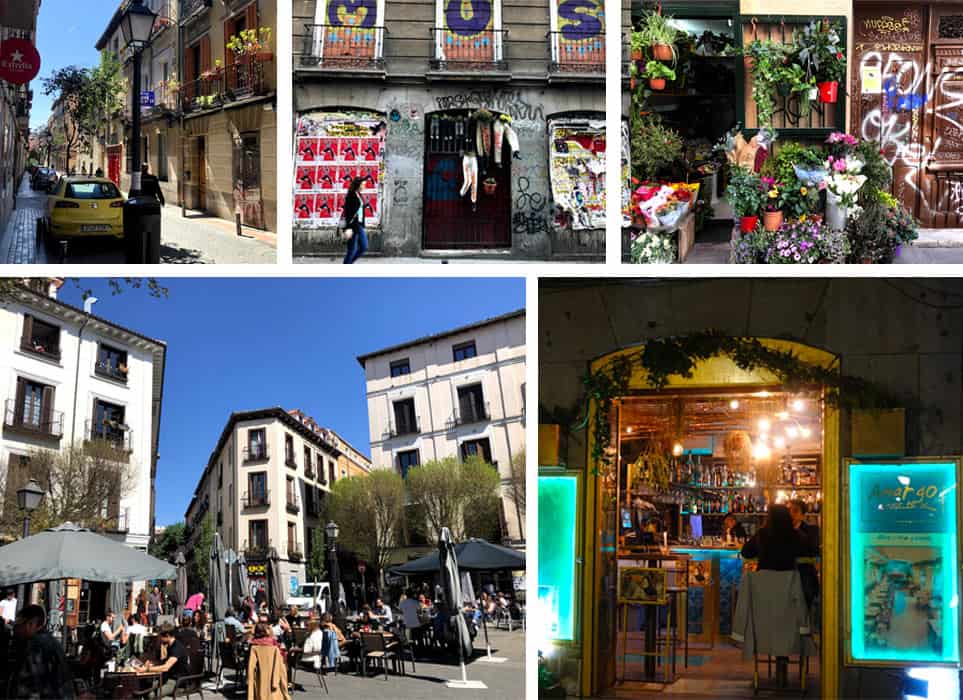 Staying in a fun neighborhood makes your stay better
The hostel's location can have a huge impact on your hostel experience. It is much more convenient if you're located near the sights/bars/clubs/grocery stores/public transportation/McDonald's.
That said, you can often save money by staying in a hostel that's located outside the city or at least away from the city center.
Fun Extras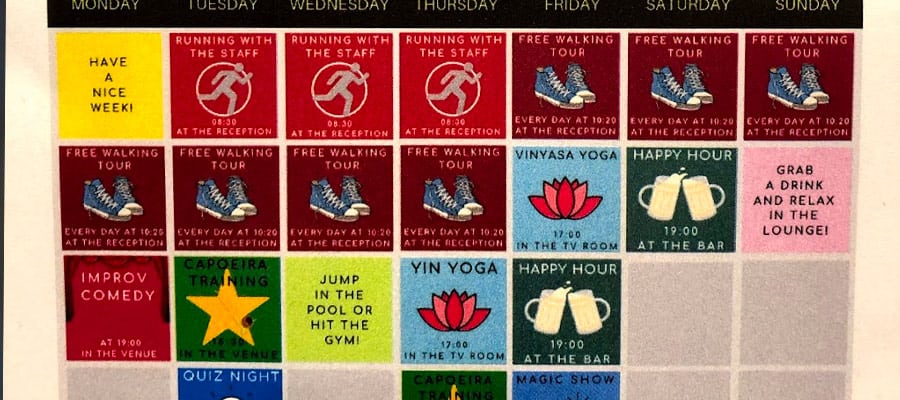 Lots of activities

Hostel bikes for rent
Some hostels really go above and beyond to make sure their guest have a great time. I've seen free group dinners, a free welcome drink, free walking tours and pub crawls, concerts, yoga, happy hours, and more.
Boutique Hostels


Yes, this is a hostel.
The latest development in the budget accommodation world is boutique hostels — which feel more like funky boutique hotels than a hostel. These hostels are generally a little more expensive than traditional hostels but they often have higher-end amenities like nicer kitchens, workout rooms, nicer beds/furniture, and other more.
How to Find A Great Hostel In Europe
Thanks to the Internet, booking a hostel is incredibly easy. Sites like Hostelworld allow you to read past reviews of other travelers so you can judge the quality of the hostel before you book it.
I book all most hostels through Hostelworld because they are the largest site and they have the most hostel reviews/community base — and the site is super easy to use. Simply enter your travel information and the site will give you a list of results. Each hostel is rated by fellow travelers, so you'll get a pretty good idea if the hostel is worth booking. You can also see videos, pictures, amenities, and directions. You book your reservation by paying 10% of the total payment (by credit/debit card), and then you pay the remainder of the payment directly to the hostel when you arrive. It's super easy.
Hostelworld is also nice because it allows you to filter your search results based on price or rating. I usually look at the highest-rated hostels first and then find one in my price range. But you can always filter based on price alone if you're on a strict budget.
By doing a little homework, you can find some truly amazing hostels.
More Helpful Hostel Tips
Write detailed instructions on how to get to the hostel from the train station/airport/wherever you're coming from. Getting lost sucks and some hostels can be tough to find.
Book hostels ahead of time during the busy season — especially in the summer because they can sell out.
Bring earplugs and a sleeping mask. There is bound to be one person who snores super loud when you're in a room of 12 people. He is probably the same jerk who turns the lights on when returning to the room at 4 am. He'll probably brush his teeth and leave the water running the entire time too. And I bet he hates puppies.
Renting a towel from a hostel is a lot better than carrying your own stinky wet towel around in your backpack. Not all hostels offer towels for rent so I suggest buying a special quick-drying travel towel just in case.
I always like to book hostels that only allow people 18+. Large school groups often rent hostels for school trips. 50 middle schoolers running around isn't remotely enjoyable. I also like hostels that don't rent to bachelor/stag parties as these groups often get belligerently drunk.
Read the hostel's policies. Some only accept cash, some have a lockout period (usually between 11 am-4 pm) for cleaning, and some even have a curfew.
Some hostels charge for linens. I've never encountered this but I have had to pay a refundable deposit on sheets.
I've never met a front desk worker who didn't speak English fairly well.
Many hostels have pub crawls and the guides know where to get the cheapest drinks. This is a great way to meet other travelers.
If you want to meet other travelers then you might have to make an effort to talk to other people.
The Best Hostels in Europe By City
Here are a few of the best hostels in the most-visited cities in Europe:
Hostel Packing Advice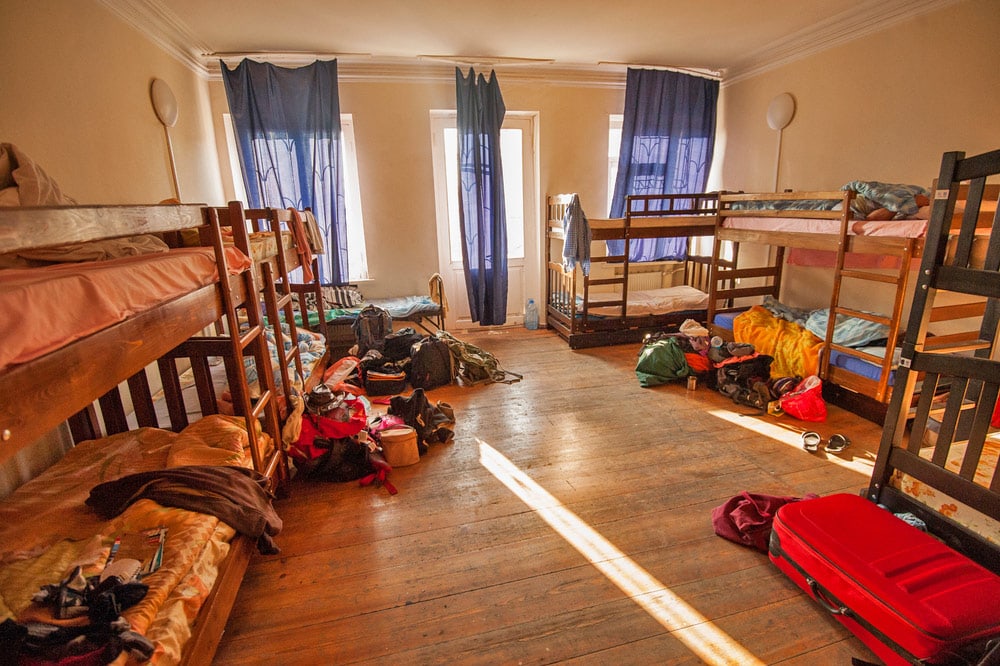 Staying in hostels poses a few unique packing challenges so I'm here to help by recommending a few of my must-have items. Check out my Hostel Packing List for the full list but below are the absolute necessities: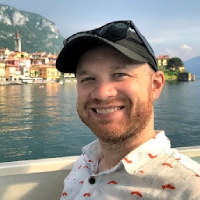 James Feess is the creator of The Savvy Backpacker and the author of the book "The Savvy Backpacker's Guide To Europe On A Budget". He's been blogging about budget travel in Europe since 2010.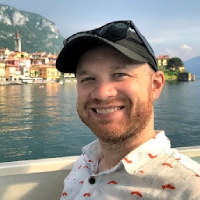 Latest posts by James Feess (see all)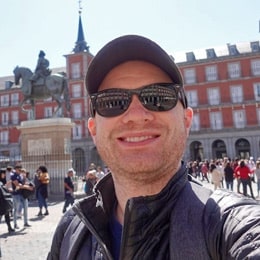 No Funny Business
The Savvy Backpacker is reader-supported. That means when you buy products/services through links on the site, I may earn an affiliate commission—it doesn't cost you anything extra and it helps support the site.
Thanks For Reading! — James
Questions? Learn more about our Strict Advertising Policy and How To Support Us.