A Glimpse into Dubai
History and Culture
Dubai is not just a city, it is an experience. The emirate's journey from a fishing village to one of the world's leading metropolises is the stuff of legends. A mesmerizing mix of old and new, traditional and modern, the city presents an incredible tale of transformation.
Transformation from a Fishing Village
Once a small fishing village on the coast of the Arabian Gulf, Dubai's transformation into a mega city is truly inspiring. Its historical districts like Bur Dubai and Deira take you back in time, showcasing the region's rich cultural heritage, including its traditional souks, heritage houses, and ancient forts.
Architectural Wonders
Today, Dubai stands tall as a city of architectural marvels. From the awe-inspiring Burj Khalifa, the tallest building in the world, to the Palm Jumeirah, an artificial island that can be seen from space, Dubai's architectural landscape is nothing short of impressive. Each structure is a testament to human creativity and perseverance, encapsulating the city's journey from a desert landscape to a global icon.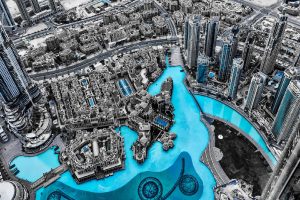 Lifestyle in Dubai
Beyond the skyscrapers and luxury malls, Dubai offers a unique lifestyle that blends comfort with luxury. Its cosmopolitan vibe, dynamic food scene, world-class amenities, and vibrant nightlife make the city a magnet for tourists and expatriates alike.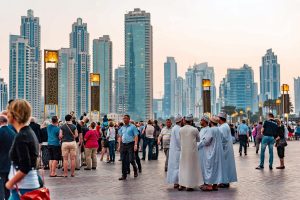 Dubai's Growth and Development
Economic Developments
Dubai's economic evolution is a case study in strategic diversification and forward-thinking leadership. From being a region heavily dependent on pearl diving and fishing, to an oil-dependent economy, and finally to a diversified powerhouse – the city's economic trajectory is nothing short of remarkable.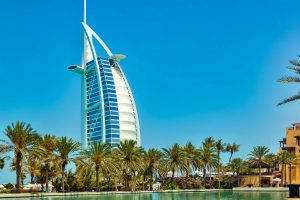 Diversification Away from Oil
Today, Dubai's economy extends beyond oil. It is a bustling hub for trade, finance, tourism, real estate, logistics, and technology, among others. Its free zones offer incentives that attract businesses from around the world, fostering a conducive environment for entrepreneurship and innovation.
Innovation and Technology
Innovation and technology are at the heart of Dubai's future economic growth. Whether it's integrating blockchain in government services, establishing a thriving startup ecosystem, or launching ambitious space missions, Dubai continues to push the boundaries of what's possible.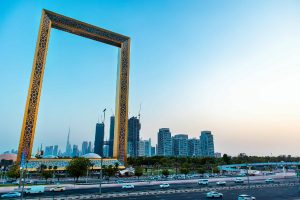 The Role of Tourism
Tourism also plays a crucial role in Dubai's economy. With its luxurious hotels, bustling shopping malls, desert safaris, and cultural landmarks, Dubai attracts millions of tourists each year, making it one of the world's top travel destinations.
Dubai in the Next 10 Years
Anticipated Economic Trends
The next decade is set to be a transformative period for Dubai. The city is investing heavily in emerging sectors such as AI, digital economy, and space exploration. These developments are likely to create new economic opportunities and bolster Dubai's status as a global business hub.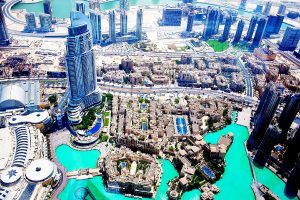 Role of AI and Space Exploration
AI is expected to revolutionize various sectors in Dubai, from healthcare to transport and education. Similarly, the emirate's foray into space exploration, marked by the successful Mars Mission, opens up new avenues for scientific discovery and technological advancement.
Sustainability and Environmental Protection
Dubai is not just about grandeur and growth; it's also about sustainable development. The city is making significant strides in renewable energy, green architecture, and sustainable transportation.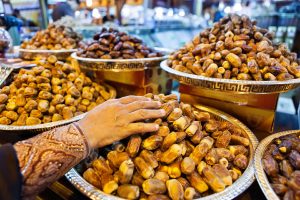 Investment in Renewable Energy
From solar parks to sustainable homes, Dubai's commitment to a greener future is evident. The Dubai Clean Energy Strategy 2050, for instance, aims to produce 75% of the city's energy from clean sources by 2050, emphasizing the city's commitment to a sustainable future.
Anticipated Social Trends
Dubai's social scene is as diverse as its economy. The city is a cultural melting pot, home to over 200 nationalities. This cultural diversity greatly enriches the city's social landscape, offering a unique blend of traditions, cuisines, and festivals.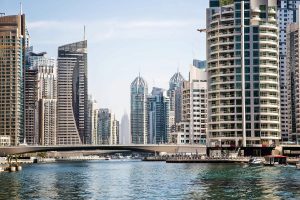 Expatriate Population and Cultural Diversity
With a large expatriate population, Dubai is one of the most multicultural cities in the world. This diversity is reflected in every aspect of the city's life, from its food and fashion to its language and lifestyle, fostering an environment of mutual respect and cultural exchange.
Education and Cultural Developments
Dubai is committed to nurturing a knowledge-based economy. The city boasts some of the world's best schools and universities, attracting students from around the globe. Moreover, initiatives like Dubai's Culture Strategy aim to promote local talent and enrich the emirate's cultural scene.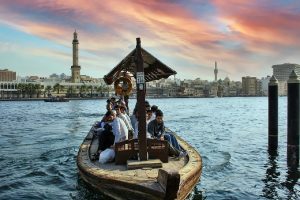 Emphasis on Higher Education and Research
The city places a strong emphasis on higher education and research, hosting numerous universities and research institutions. This commitment to education aligns with Dubai's vision to position itself as a global knowledge hub.
Dubai as a Global Hub
Positioning in the Global Landscape
Strategically located between the East and West, Dubai is a global connector. Its world-class infrastructure, pro-business policies, and dynamic lifestyle make it a preferred destination for businesses, tourists, and expatriates alike.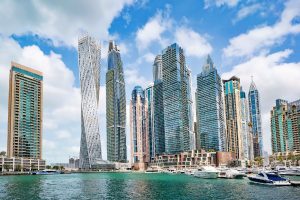 Becoming a Destination for Major Global Events
Dubai is becoming an increasingly popular destination for major global events. The city's hosting of the Expo 2020, one of the world's largest and most anticipated global mega-events, underscores its position as a global city.
Influence on the International Community
Dubai's rise has made a significant impact on the international stage. The city has set new benchmarks in urban development, hospitality, and sustainable practices, influencing global trends in these areas. It is also a significant player in international trade, with its ports serving as key transit points for global shipping routes.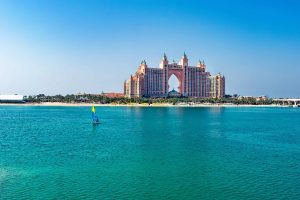 Dubai's Contribution to the Global Business Scene
With its free zones and strategic location, Dubai has positioned itself as a global business hub. It offers numerous opportunities for businesses to expand and thrive, contributing significantly to the global business scene. Dubai's proactive approach in adapting to digital transformations and incorporating technology into various sectors also serves as a model for other cities.
Introduction: Welcome to Dubai's Hotel Paradise
Dubai is a city that epitomizes grandeur and luxury. From towering skyscrapers to pristine beaches, Dubai offers a unique blend of modernity and tradition. When it comes to accommodations, the city goes above and beyond to ensure visitors experience the pinnacle of opulence. Let's explore the best hotels in Dubai that guarantee an unforgettable stay.
Mandarin Oriental Jumeira: A Haven of Opulence
Situated on the pristine shores of Jumeirah Beach, the Mandarin Oriental Jumeira offers a serene and indulgent escape from the bustling city. This luxurious beachfront property boasts stunning ocean views, exquisite dining options, and an array of wellness facilities. Immerse yourself in the hotel's elegant atmosphere and experience the epitome of refinement.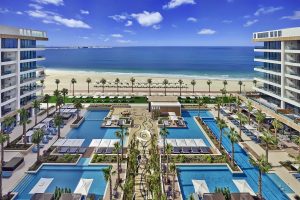 Bulgari Hotel Dubai: Where Elegance Meets Modernity
Combining Italian glamour with contemporary design, the Bulgari Hotel Dubai is a true masterpiece. Located on the exclusive Jumeirah Bay Island, this hotel showcases impeccable craftsmanship and attention to detail. From the lavish rooms and suites to the exceptional dining experiences, every aspect of Bulgari Hotel Dubai exudes sophistication and style.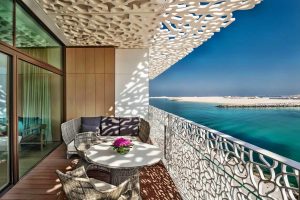 One & Only The Palm: A Tranquil Oasis
Nestled on the Palm Jumeirah, One & Only The Palm offers a secluded sanctuary amidst the vibrant city. This intimate resort features stunning Moorish and Andalusian architecture, lush gardens, and a private beach. Indulge in world-class cuisine, rejuvenate at the Guerlain Spa, and revel in the tranquility that surrounds you.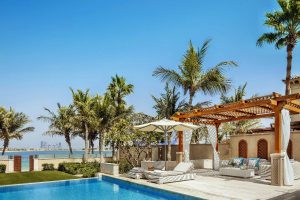 Atlantis The Royal: An Aquatic Wonderland
Prepare to be amazed by Atlantis The Royal, an extraordinary resort located on the Palm Jumeirah. This architectural marvel boasts breathtaking views, awe-inspiring underwater suites, and an array of thrilling water attractions. Dive into the Lost Chambers Aquarium, explore the Aquaventure Waterpark, and embark on a culinary journey at the hotel's renowned restaurants.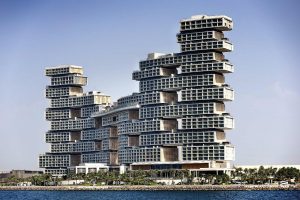 Raffles The Palm: Exquisite Grandeur on the Palm Jumeirah
Discover refined luxury at Raffles The Palm, an elegant oasis on the Palm Jumeirah. This remarkable hotel offers spacious suites with private pools, an exclusive beach club, and exceptional dining experiences. Indulge in the signature Raffles Spa and let the attentive staff cater to your every need.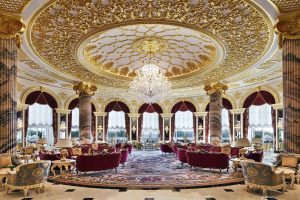 Jumeirah Dar Al Masyaf: Arabian Charm at Its Finest
Experience the allure of Arabian hospitality at Jumeirah Dar Al Masyaf, nestled within the magnificent Madinat Jumeirah complex. With its traditional Arabian architecture and serene waterways, this hotel offers a truly authentic Emirati experience. From the beautifully appointed rooms to the private butler service, Jumeirah Dar Al Masyaf promises a luxurious retreat.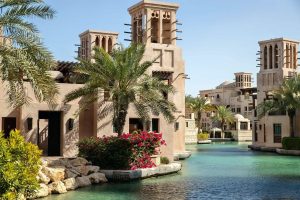 Ritz Carlton Dubai Marina: Luxury on the Waterfront
Located in the heart of Dubai Marina, the Ritz Carlton Dubai Marina combines sophistication with stunning waterfront views. Immerse yourself in the contemporary elegance of the hotel's rooms and suites, savor delectable culinary creations, and unwind at the rooftop pool. The Ritz Carlton Dubai Marina sets the stage for an unforgettable stay.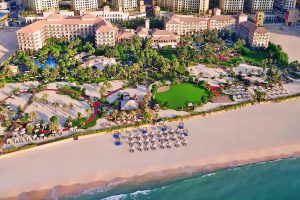 Address Downtown Hotel Dubai: Iconic Style and Panoramic Views
Rising majestically in the heart of Downtown Dubai, Address Downtown Hotel Dubai offers a blend of urban luxury and timeless elegance. Enjoy unparalleled views of the iconic Burj Khalifa, explore the vibrant neighborhood, and indulge in the hotel's exceptional dining and wellness offerings. Address Downtown Hotel Dubai is an address you won't forget.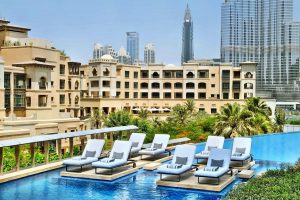 Ritz Carlton DIFC: Sophistication in the Heart of Dubai
Situated in the vibrant Dubai International Financial Centre, the Ritz Carlton DIFC combines business and leisure seamlessly. The hotel's stylish rooms, award-winning restaurants, and world-class spa facilities ensure a memorable stay. Whether you're traveling for business or pleasure, the Ritz Carlton DIFC is a haven of sophistication.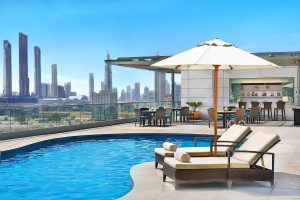 Park Hyatt Dubai: A Serene Retreat by the Creek
Escape to a tranquil oasis at Park Hyatt Dubai, nestled alongside the Dubai Creek Golf & Yacht Club. This luxurious resort offers elegantly designed rooms, a private marina, and a serene spa. Take in the mesmerizing views of Dubai's skyline as you unwind in this idyllic setting.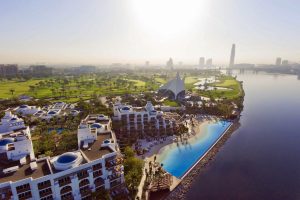 Waldorf Astoria The Palm Dubai: Unforgettable Beachfront Luxury
Experience the epitome of beachfront luxury at Waldorf Astoria The Palm Dubai. Set against the backdrop of the stunning Palm Jumeirah, this hotel captivates with its palatial architecture, lavish accommodations, and a private beach. Indulge in world-class dining, unwind at the luxurious spa, and create memories that will last a lifetime.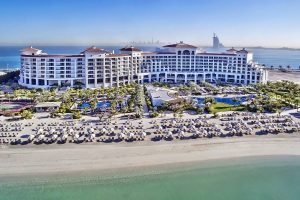 Conclusion
In the coming decade, Dubai is set to continue its journey of transformation, further reinforcing its position as a global hub of innovation, sustainability, and cultural diversity. The fascination of Dubai is not just about its architectural marvels or its wealth, but rather its dynamic spirit, its ability to dream big, and its relentless pursuit of progress. Indeed, the magic of Dubai lies in its ability to turn dreams into reality.
Questions and Answers
What makes Dubai fascinating?
Dubai's fascination lies in its rich history, its remarkable transformation, its cultural diversity, and its ambitious vision for the future.
How has Dubai's economy evolved?
Dubai's economy has evolved from being dependent on fishing and pearl diving, to oil, and now to a diversified model focusing on sectors like trade, tourism, finance, and technology.
What are the anticipated trends for Dubai in the next decade?
Anticipated trends include an increased focus on AI and space exploration, significant investments in sustainability, a deeper emphasis on education and research, and continued cultural development.
How does Dubai position itself in the global landscape?
Dubai positions itself as a global hub due to its strategic location, world-class infrastructure, and business-friendly policies. It's also a popular destination for major global events.
What is Dubai's impact on the international community?
Dubai sets benchmarks in urban development, shapes international trade, influences global trends in technology and sustainability, and contributes to the global business scene.
About PrivateUpgrades
Imagine, you step off your private jet or first-class cabin, knowing your destination promises a luxury experience tailored just for you. With PrivateUpgrades, this dream becomes your reality. As a dedicated luxury travel concierge service, we're here to elevate your travel experiences to the next level.
So why should every luxury traveler become a member of PrivateUpgrades? Let's delve into the world of unparalleled benefits we offer.
Exclusive Access: As a PrivateUpgrades member, you get privileged access to some of the most sumptuous suites and hotel rooms worldwide. These are often unavailable to the general public, but your membership unlocks these doors for you. Upgrades: Ever desired more? More space, more comfort, more luxury? As part of your membership, we offer complimentary upgrades. Picture arriving at a luxury resort expecting your reserved room, only to be whisked off to a magnificent suite, all at no extra cost. Personalized Service: Your tastes, preferences, and desires become our command. PrivateUpgrades provides a dedicated concierge service, ensuring every detail, from your favorite bottle of wine to your preferred pillow type, is taken care of. Unique Experiences: Our reach extends beyond mere accommodations. PrivateUpgrades can arrange a wide range of tailor-made experiences such as private yacht charters, wine-tasting tours with experts, or even cooking lessons with Michelin-starred chefs. Value: While luxury has its price, we make sure you extract the maximum value. Our members enjoy exceptional deals, including free nights, substantial discounts, and exclusive packages, ensuring your money stretches further without compromising on the luxury. Reliability: We take pride in our reliability. From the moment you contact us, through the booking process, to the point when you step foot in your destination, we ensure every facet is handled professionally and proficiently.
In the world of luxury travel, PrivateUpgrades acts as your personal guide and aide, ensuring every journey you take is a voyage of utmost comfort, personalized luxury, and unique experiences. Embrace the world of possibilities and become a member of PrivateUpgrades. Remember, the world isn't just for those who travel, but for those who travel well.